FCS-H3 / $149

3-Way Hybrid In-Ear Monitor
The FCS-H3 is designed

specifically

as a

live stage in-ear monitor

. As a result, the sound will remain consistent and clear at any volume level.


10mm Dynamic Bass Speaker & Dual Driver Armatures for the high end.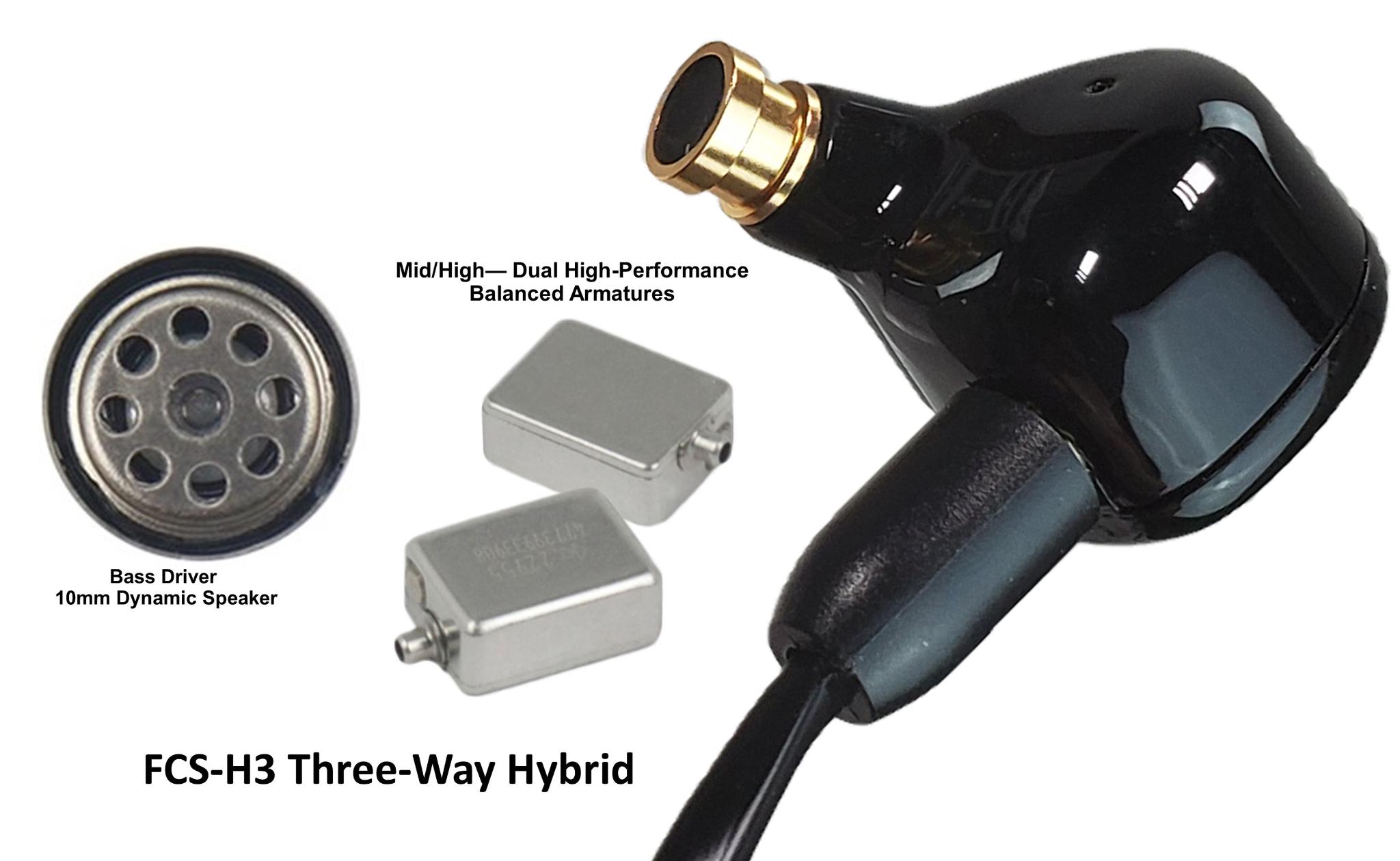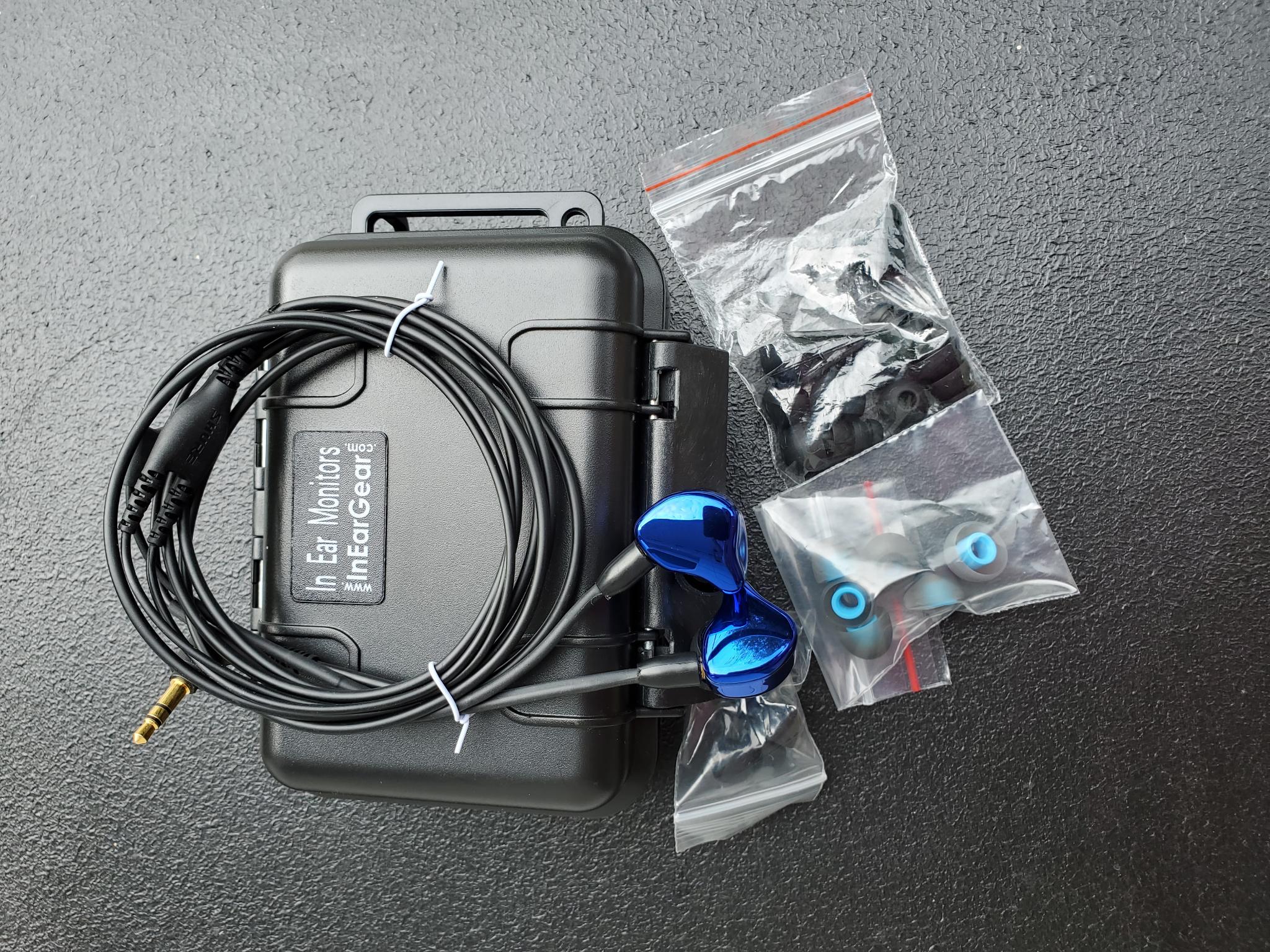 The FCS-H3 (Hybrid Three-Way) is designed for specifically as a live stage in-ear monitor. As a result, the sound will remain consistent and clear at any volume level to compete with live amplified stage instruments.

The low end of the H2 is a powerful titanium diaphragm 10mm dynamic subwoofer. It's tuned and ported to deliver a balanced tight punchy low end.
The mid-high frequencies are covered by dual driver balanced armatures. We went through dozens of drivers and tuning mesh adjustments to find the perfect seamless compliment to the H3's sub section.
Included in the package is a waterproof hard-shell IEM case and a plethora of tips to make sure you get the proper seating or seal.
· Bass Driver 10mm Dynamic
· Mid/High Driver Dual High-Performance Balanced Armatures
· Frequency Response: 20Hz to 20KHz
· Impedance: 16 Ω ±20% at 1KHz 1mW(0.102V)
· Sensitivity: 105dB±3dB/1mW
· Rated Power: 3mW
· Maximum power: 5mW
· THD <= 5% @1kHz, 0.01m, 1mW
· Cable 64" with Glide
· Warranty 1 Year
Let's start out discussing the drivers in the FCS-H3 (hybrid three-way). In a nutshell, you have a 10mm titanium dynamic bass driver same size as the Future Sonics G10 which is known for great bass response. In addition, there's a dual driver armature driver like in the Westone UM20Pro & Shure SE425. Best of both worlds. You get the massive low end of the Future Sonics with the high-end clarity of the Westone & Shure products. The low-end driver portion on the FCS-H3 is ported which will provide a slight ambient introduction to your mix.
Tunable EQ possibilities of the FCS-H3.

Every good (expensive) earphone I've purchased, even the ones I considered great, I've had to EQ to my liking on stage. We all have different desires as to what is perfect.
With my sound company, Freq City Sound, we have a warehouse full of active line arrays, wedges and center-fill speaker boxes. They all have built-in DSP (Digital Speaker Processing). When I first started out in the sound business my idea was to EQ them to sound perfect. The thing is, we all hear differently. Perfect for me may not be for you. You've heard guys mixing a band and it sounded too bright or too much low end etc. To the guy at the board – it was perfect. We need the ability to tune to our liking the speakers in our ear monitors. The way we set up our speaker boxes now, is a flat EQ. It gives the engineer a good starting point when he arrives at the console to tune the system the way he wants to hear it.

Earphone manufactures tune their earphones to sound good to listeners using no EQ. Way more than half of their clients are personal listening dudes and the other half live sound. Plug them into your phone on the subway and they sound damned good. I maintain that a stage may have different challenges over a subway.

The FCS-H3 hybrid three-way earphones do sound good right out of the shoot (it's what I listen too on my riding lawn mower) however, I've designed them with a huge sweep of EQ tunable capability.
Over the years I've sold and used Shure, Westone, Future Sonics & Aurisonics IEMs. I have pretty much taken what I was given because back then, we didn't have all the EQ-ing possibilities we do now.

Most players are now using systems that allow them to EQ their ears. Ever said to yourself, "my earphones sound good but if they had just a bit more……." if this is your situation, you're going to really like these earphones.

You can make the low-end stupid or the high-end painful. You will not be limited to what our regular go to manufacturers determine perfect. We all have different desires as to what is "perfect."
Freq City Sound performed the following tests on the FCS11D, FCS11B and the FCS-H3 Hybrid
HEAT / HUMIDITY We cooked the earphones at 103 degrees with 95% humidity for 48 hours (you've played that show). No change in the earphone's performance or issues with resins and/or adhesives.
DROP TESTS We dropped the earphones from 5' (belt pack or table height from where they usually fall) a dozen times to a concrete floor. No change in the earphone's performance.
COLD Low temp test 25 degrees for 6 hours then room temp for 2 hours - No change in the earphone's performance.
Mike. These ear buds are fantastic!! I couldn't believe the definition, clarity, and above all the LF drive I was getting from them. By far the best IEM's I have ever heard. Far superior to my old Shure 846's.
Thank you, my friend. Sandro / Full Force Sound & Light Production
Mike, the package was received and the H3's are definitely punching above their weight class. Above that however, your directions and emailed audio track were exactly what I needed to get the best sound from them. Thank you for your time and customer service. In March/April retuning for the MI-58 transmitter/receiver set. Beau
Mike, Just listened to the FCS-H3....OMG WOW AMAZING. Kicks the shit out of my $1000 double bass Westones. Arnie B.
Hi Mike,
I rec'd the shipment in good order and found some tips and have been listening to recordings that I have made and have been involved with mastering reviews. I have yet to fool with the transmitter and receiver.
The FCS-H3 is a very nice portable headset. At first blush, the reproduction of my recorded music is very familiar as are many of my recorded favorites. Saying that 'I sound like me' is a good complement. Saying that I can tell which of my trumpets was used on a recording, a big tip of the hat. Sound is not colorized, not predominating in any predominating part of the frequency spectrum. Any criticism is by comparison to other headsets, and that would need to be qualified by saying that the FCS-H3 is at the higher end of my experience of quality of sound, particularly with an in-ear set. There are modest mid and upper-mid attributes/driver slightly more efficiently transmitted than low end (acoustic bass), and extreme high end (snare crispiness, cymbal sizzle) that are more noticeable with the higher energy levels pieces. Trumpet/sax/flute sounds very good.
I anticipate that this set will suit me well on the stage; as a wind player, I often contend with stage volume issues, (typically guitarists and bass players) who often dominate both the mix, as well as stage volume and also the the low and low mid volume spectrums. I also have occasion to work with orchestras in pop settings which opens up a whole raft of challenges, and I think these will be great for balance in the mix.
Best regards, Rex
--------------------------------------------------------------------
Hey Mike, There's definitely a big sonic improvement over my Shure IEMs. I can actually hear the depth of the reverb and delay from a guitar tone. The hardshell case is also a nice touch and I have zero worries about taking these on the road. Thanks again! Blade Geer
--------------------------------------------------------------------
Mike,
OMFG! Got my shipment of the FCS-H3's today. Plugged them into my iPad and went through a bunch of tunes I have, switching tips till I found the most comfortable and best sealing. As you know, I've purchased several of your various low to mid-priced IEM's. As a drummer, I like "feeling" the thump of the kick drum and bass guitar. Well, I have definitely found "MY" IEM's. The FCS-H3 delivers that low punch I've been looking for. Any drummer, bass player or anyone looking for a set of buds that gives crystal clear mids and highs with a solid low end owes it to themselves to grab a pair of these IEM's. Hands down the BEST purchase I've made through you. Thank you!
Dean Roussel
-----------------------------------------------------------------------
Hi Mike,
FCS-H3 arrived today, and I just plugged them in and listened to that audio track you emailed. All I can say is WOW! I'm coming from Westone IEMs to the H3. Massive improvement. It's hard to believe all this sound is coming from an earphone. It's unreal. Steve / LA
Mike,
They perform way beyond their price point.
I used them with my friends on Jamkazam and also tried them with my one man band set up.
Online Jamming(Jamkazam/Jamulus)/Livestreaming
My Shures are harsh at times. These are well balanced and not harsh. Plenty of low end, they do not need any low-end help at all. I ran the EQ flat on my mix. Bass guitar sounded like it should. I don't pound the low end, my set up is more Ampegish with clear mids/Assorted American Fender Jazz Basses. My voice was clear and centered. It was perfect and I could hear everything without cranking it to the ceiling. I drove them with my ART Head amp in my Studio. They will get very loud if need be and I never over drove them. It is hard to explain to someone how something sounds but these will work great for me. I am an audio snob and if I like them, they are good! They keep up with my Audio Technica ATM-M50x. The mids in the 50's can be not perfect at times but they are my go-to for mixing livestreams. I am happy with my mix on FB when I mix with these. Keep in mind all these musicians are online and there is no pa!
Looper system
Roland GR-55/Boss GP+10
BeatBuddy
Aeros Loop Studio
TC Helicon VL2
Full midi control
Fender American Acoustasonic Strat
Drum sound is massive......MASSIVE! Huge stage and plenty of kick.
Acoustic Guitar - Clear. Finger picking very articulate.
Strat pickup with modeling - Correct like it should be. It is a model so it should sound like one
Bass guitar patch - Holy $hit. I had to take some low end out. Those things have got it in the low end!
Vocals - Clear and centered, Not harsh, Not fatiguing. I used my PR40 I use for livestream as well as my Heil PR35 I use on a live stage.
The bottom line is I hear the music like it should be. It is correct. I don't want it fake or colored. They also are great for just listening to music in my opinion. When it comes to cans I buy them for what I want them to do. These seem to do everything very well. I have not mixed with them on a live stream but I want to try because I feel more "Free" with these. The 50's do livestream mixing very well.
I will try the wireless today and will gig with it next week. I can't wait to hear everything!
Thank you for your time. You have a great product here!
Todd
The seating or seal of the earphones with a dynamic driver(s) is critical. Here's a song that's perfect for finding the correct set of tips to give you the best performance from your FCS IEMs.
Put the earphones in and listen to the song. Now push the earphones in farther and move them around until………. the sound gets massive – like perfect. That's the tip set you're looking for. The tips that give you as close as you can get to that huge-massive sound without having to push them around.