Hard-Wired In-Ear Monitor Packages
Hard-Wired System vs Wireless. Sound wise, with a wire, your sound will be way better than wireless. You will have no hiss, no frequency issues, no dropouts, and no sound delay. It is the best possible way to go. If you must be wireless, you will fight every one of those issues at one time or another. Bottom line, if you are a stationary player, like keyboards, drummers, sitting in a chair in a church band, horn section stuck behind hardwired mics, etc. You win bigtime being hardwired. Remember this talk when you have a perfectly clean signal and wireless guys/gals are trying to get the sound guys attention.
All of these packages come with the Pelican style waterproof IEM Case
FCS-H3 Hybrid w/ AAA Powered Belt Pack $199
FCS AAA Battery Powered Belt Pack Amp. Stereo/Mono Selection, XLR or 1/4" Plenty of volume to drive any of the FCS In-Ear Monitors.
You can also go with the Behringer P2 amp same price just let me know the same time you place your order.


FCS11B Black w/Amp $179 FCS11B Blue w/Amp $179 FCS-H3 Blue Black w/Amp $199
FCS11B Black & Behringer P2 $179 FCS11B Blue & Behringer P2 $179 FCS-H3 Blue & Behringer P2 $199
FCS11B Bass Version In-Ear Monitors and FCS-S1 Stand Mount Hard Wired IEM AMP w/power supply $189 delivered (Lower 48 USA)
Choose Blue or Black for your In-Ear Monitor Color.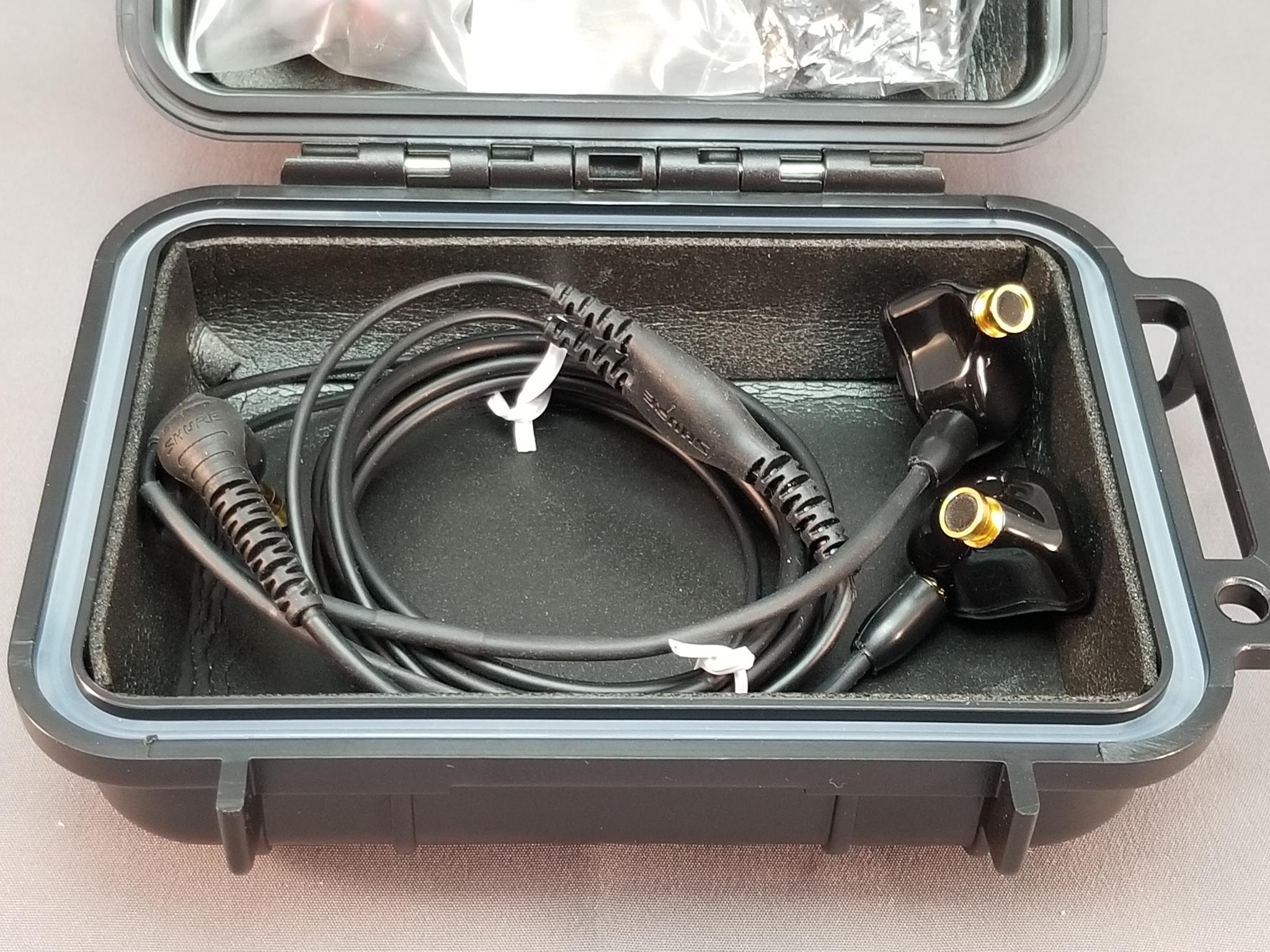 Can I have just a little more ME!!! in the monitor mix? The answer is YES!
FCS IEM Mixer & FCS110 IEMs $129 Delivered
CLICK ON THE PIC FOR INFO ON THE INDIVIDUAL IN-EAR MONITORS AND/OR AMPS
FCS AAA Battery Powered Belt Pack Amp. Stereo/Mono Selection, XLR or 1/4" Plenty of volume to drive any of the FCS In-Ear Monitors.

FCS In-Ear Monitors the differences
FCS110 $89 Same size driver as the Future Sonics G10. Product sounds like $200. You'll be rather blown away at the sound you can get for $89. It's a smaller casing so would be great for players wanting a lower profile IEM. With the smaller shell, your isolation will be less that the next products on the list.
FCS210 $129 This one has two dynamic drivers and a huge sound. We've sold (with your help) several thousand of these. Great low end and warm highs. I can no longer get this product without ordering 5000 pieces of each color. We're down to all red or red-right / blue-left. A great sounding IEM.
FCS11D $129 An 11mm dynamic so larger than most on the market. This product will replace the FCS210 when they're gone. It has a deep sounding low end but still punch and tight. Smooth highs. This will be the new best seller for Freq City Sound. It's already surpassing the FCS210 sales.
FCS11B $129 This is for bassists and drummers. Same product as the FCS11D it just a slightly larger port making the low end bigger. All players will like this product if you like low end in your mix. Again, it's only a slight bit more lows than the FCS11D.
FCS-H2 $149 This one is a hybrid with a 10mm dynamic for the lows and a balanced armature for the highs. This product is more of a balanced all-round IEM. Guitarist, singers, anyone who has considered a Westone or Shure multi-driver product will love the H-2. The low end is solid, and the highs are crystal clear. We worked hard on the mesh inside the stem to ensure the highs didn't become brittle and glassy. The result is a perfect balance of lows and highs. If you're considering a Westone UM30Pro or Shure SE425, The FCS H2 for $149 is twice the product. For half the money.
Let's talk a little bit about how to get a signal to your hardwired in ear monitor amp. On standard analog boards you have several auxiliary sends. If you look at a channel strip, you'll see the fader, EQ section, and AUX send section. You'll need one of those aux sends to be open in order to get a personal mix. AUX SENDS are commonly used for sending reverb, delay or a monitor mix. If you have an open auxiliary send that will be your mix. On the back of the console you'll see the AUX outputs. Take that output whether it be a tip ring sleeve (TRS) or an XLR from that output straight to your hardwired in ear monitor amplifier. The mix of instruments and vocals will be done at the console. You'll have overall volume control at your amp.
Let's say you've chosen AUX 1 as your mix. You want more guitar? Go to the guitar channel and on that channel turn up AUX 1. Repeat this for every instrument plugged into the console to create your own personal monitor mix.
It's pretty much the same on the new digital consoles and rack mixers only you have a lot more flexibility. Many digital consoles and rack consoles for iPad have as many as 10 AUX sends where our old analog boards, we were lucky to see 6. You also have the ability within your AUX SEND to EQ your mix, ad reverb etc. The process is essentially the same though. Your AUX SEND is your in-ear monitor mix.
There are a lot of creative ways to get a mix with a personal amp even if you don't have an AUX SEND on your console. Several of the monitor amps have two inputs, some three. They also have through-puts. Meaning, plug your microphone in to the amp and then out of the other side on to the console. You now have control of that microphone volume in your ear. Now we need to consider what goes into the other input of the amplifier. Let's say you're mixing console doesn't have enough open AUX SENDs to give you your own personal monitor mix.
Get a split from whatever monitor mix their sending and plug it into the other side of your amp. Now you have an overall monitor mix and you were vocal as loud as you want.
Let's just take a split of the front of house mix and run it in to channel 2. Now you have a nice balanced full band signal to mix in your vocal and as needed.
I'm just thinking out loud here. How about we set a microphone in the room and run it into the second channel of your monitor amp. Now you pick up everything on stage with one microphone and balance your vocal and as you like.
I'm sure there are several more ideas we could come up with. They all have their pluses and drawbacks but what I'm trying to get through is the versatility of a personal monitor amp.