Shure P3TRA215CL PSM300 Wireless Stereo Personal Monitor System with SE215-CL Earphones $849 Delivered
4 IN STOCK AS OF 6.14.23 G20: 488-512 MHz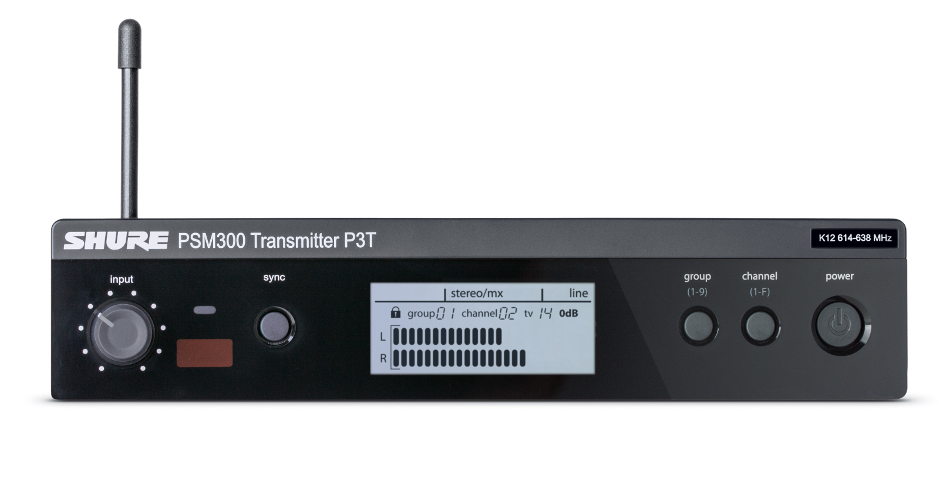 The PSM 300 from Shure is a professional-quality wireless in-ear monitoring system that delivers 24-bit digital audio and offers wireless freedom to performers. It can be used in several environments for audio application such as live stage, theater, rehearsals, houses of worship, and more. It features an audio reference compander that ensures a clearer sound and provides lower noise and audio that have no artifacts. The wireless coverage range extends to over 300' and the system helps eliminate dropouts. The PSM 300 monitor system is easy to setup and operate; it offers one-touch frequency scan and sync to find and assign a clean wireless channel. Adjust the volume using MixMode or stereo mode to create a personal mix from two channels of audio.
The P3T from Shure is a half-rack 24-bit digital audio wireless transmitter for the personal in ear monitoring system. It can be used in various environments to send 2 channels of audio to a bodypack receiver (sold separately), up to 300' away for applications such as live stage, theater, rehearsals, and more. It features audio reference companding to ensure transparent sound quality with no artifacts or dropouts. This rugged transmitter is built with easy front-panel controls, including the one-touch sync and input level knobs which are there to enable quick setup and easy operation. Furthermore, the rear-panel has balanced inputs and loop outputs that can provide versatile connectivity to other audio sources or other P3T units.
Up to 30mW output power (region dependent)1/4" (6.3mm) TRS balanced inputs and loop outputs24 MHz tuning range (region dependent)High-contrast LCD menu with detailed L/R audio output meters Detachable 1/4 wave antenna External power supply Selectable line/aux level
UPC: 042406353205


The P3RA Wireless Bodypack Receiver from Shure is a compact, stereo wireless receiver designed to be used with a Shure P3T transmitter, as part of the PSR 300 personal monitoring system. It be used by performers and speakers for audio applications in various environments such as live stages, theaters, houses of worship, and more.
The P3RA offers 24-bit digital audio clarity with dependable wireless coverage at a range of up to 300'. Automatically find the cleanest frequency available using the scan function. The MixMode and Stereo Mode features allow you to create two independent monitor mixes. A high-contrast LCD screen lets you navigate the menus so you can adjust the mixes to your liking, with control over the left/right balance, a 2-band shelving EQ, and an output gain limiter.
The unit is equipped with a rugged aluminum body, which can be clipped onto a belt or guitar strap. Two standard AA batteries provide up to 6 hours of continuous use, and with the optional SB900 rechargeable battery (available separately) you can extend the runtime to up to 7 hours. The Power Save mode preserves battery life when earphones are not connected.
Wireless stereo bodypack receiver, for use with the PSM300 personal stereo monitor system (G20: 488-512 MHz, frequency-range)Receives two channels of audio wirelessly – for use in musical professional entertainment and similar applications Detailed 24-bit digital audio provides clear, detailed sound Dependable wireless coverage extends over 300' (90 m) range, and eliminates dropouts Proprietary Audio Reference Companding technology ensures clean sound, with ultra-low noise, and no artifacts Frequency scan and IR sync – quickly find and assigns a clean channel Rugged, all-metal housing Delivers up to 6 hours of continuous operation with 2 AA batteries Offers extended runtime with the Shure SB900A lithium-ion battery (available separately), which can charge in the bodypack Volume limiter sets the maximum gain level range for the volume knob MixMode technology enables adjustment of two independent monitoring mix levels2-band shelving EQ with high and low boost Stereo Mode enables adjustment of left / right balance Power-Save mode preserves battery life when earphones are not connected High-contrast LCD screen with menu-based navigation 5-Segment battery status LEDs provide clear indication of remaining charge UPC: 042406351768

SE215 Sound-Isolating In-Ear Stereo Earphones (Clear)
The Clear SE215 Sound-Isolating In-Ear Stereo Earphones from Shure offer notable sound quality in a lightweight and affordable package. The headphones use dynamic MicroDrivers to deliver clear, natural audio with an extended bass response for a rich, lifelike listening experience. The detachable cable has formable wires that fit over the ears to stay out of the way whether you're listening on stage or at home. The cable is reinforced with Kevlar for lasting durability. The gold-plated MMCX earpiece connectors have a lock-snap mechanism that enables 360° rotation for a comfortable fit.
A personalized fit kit with multiple sizes and types of eartips is included to ensure that you get the best comfort and sound isolation possible. The in-ear design allows the earphones to effectively reduce ambient noise by as much as 37 dB. The gold-plated 3.5mm connector provides wide compatibility with a variety of MP3 players, CD players, laptops, and more. A soft carrying case provides tangle-free storage.
Lightweight, comfortable designDynamic MicroDrivers deliver clear, natural audio with an extended bass response for a rich, lifelike listening experienceFormable wires fit over the ears to stay out of the way whether you're listening on stage or at homeThe gold-plated MMCX earpiece connectors have a lock-snap mechanism that enables 360° rotation for a comfortable fitThe cable is Kevlar-reinforced for durability and is detachable for easy replacementPersonal fit kit provides a variety of eartips to reduce ambient noise by up to 37 dB and increase bass responseThe gold-plated 3.5mm connector provides wide compatibility with a variety of MP3 players, CD players, laptops, and moreA soft carrying case is included for storage and travel UPC: 042406196956