FCS11B (Bass) In Ear Monitors $129
Ported for extended low end with a bit of ambient added (Larger port allows some pass through sound)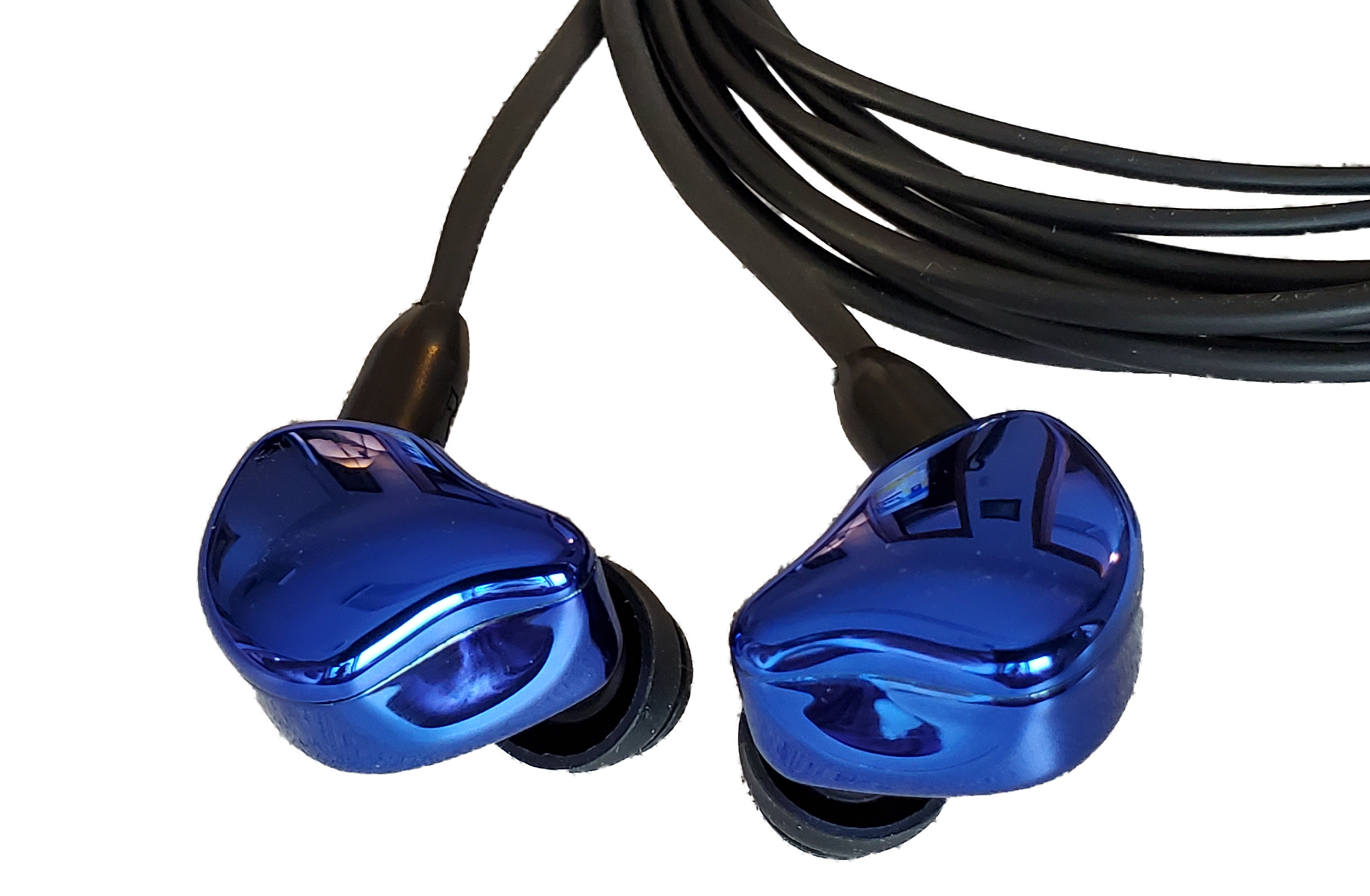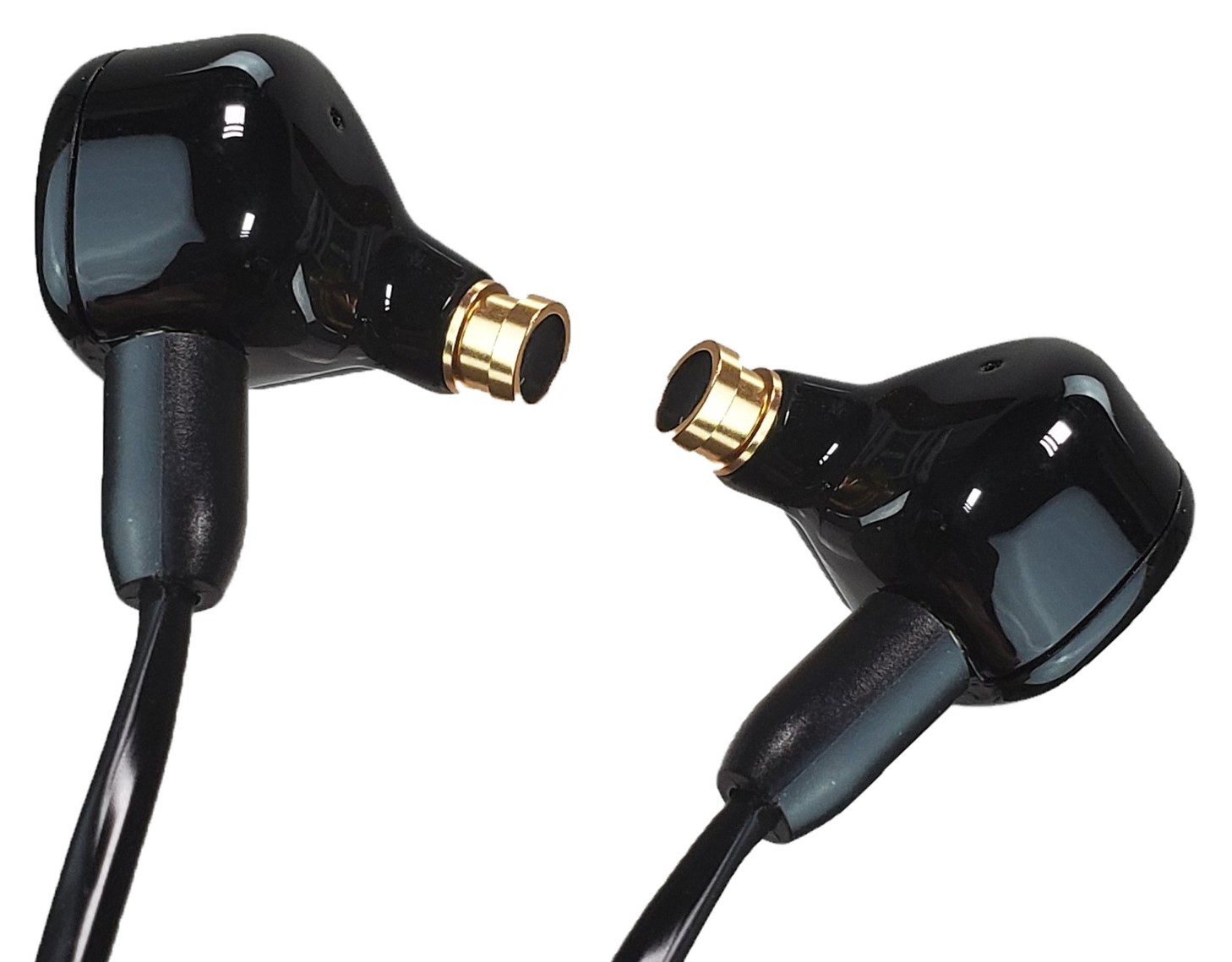 Bass players obsess over their amps, endlessly debating the merits of brands, configurations, size, strings, pick-ups, active, non-active and nearly every other conceivable detail. Yet, when it comes to the average show of decent size, the audience hears a DI. I maintain that your in-ear monitor quality is a decisive factor in a your performance. The FCS11B will let you hear and feel the nuances of your bass to allow you to be more comfortable and creative. Drawback though, you'll be able to hear it when you need new strings.
Drummers, my sound company loads a drum sub on every show. There's NO WAY you'll need it with these earphones.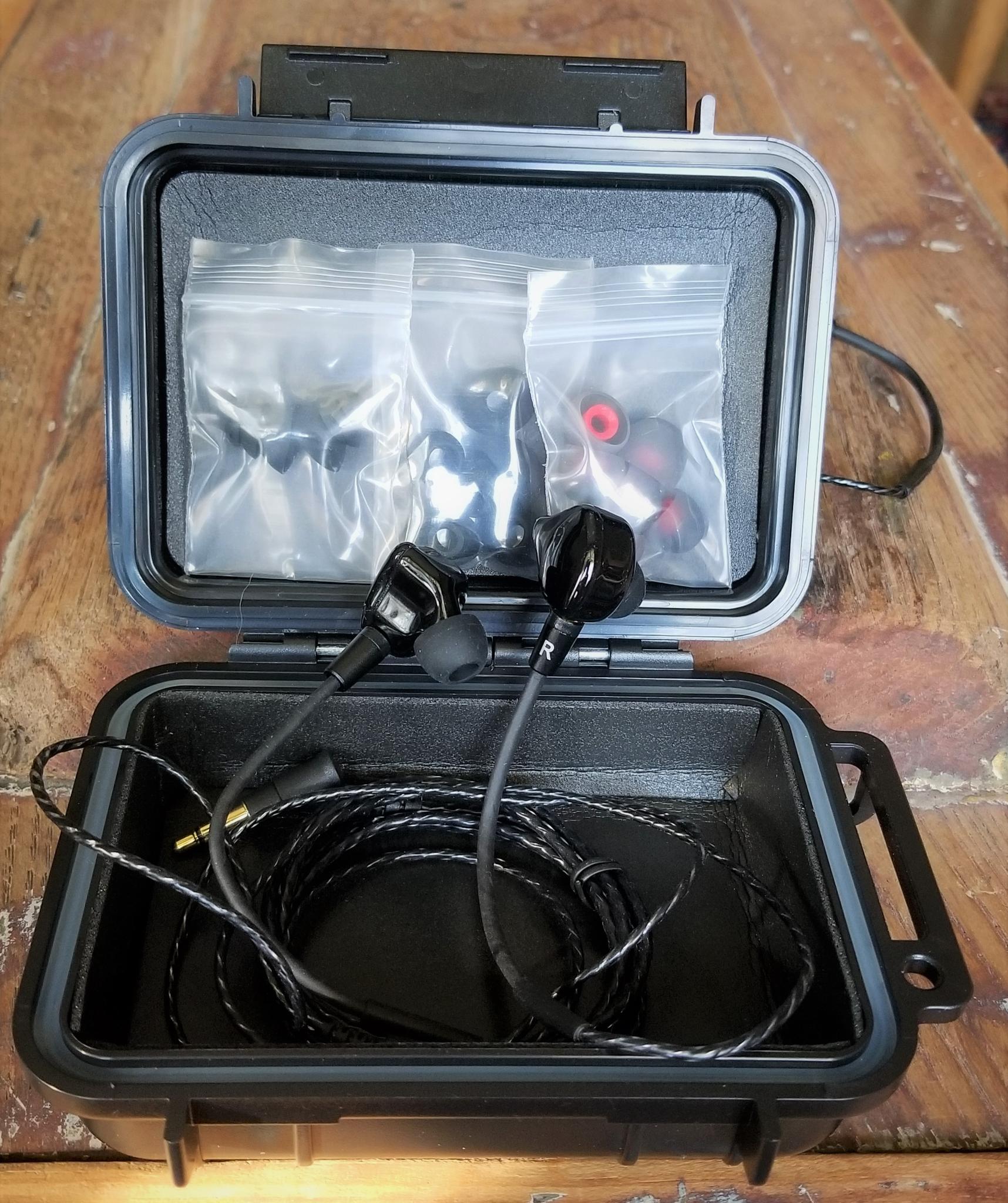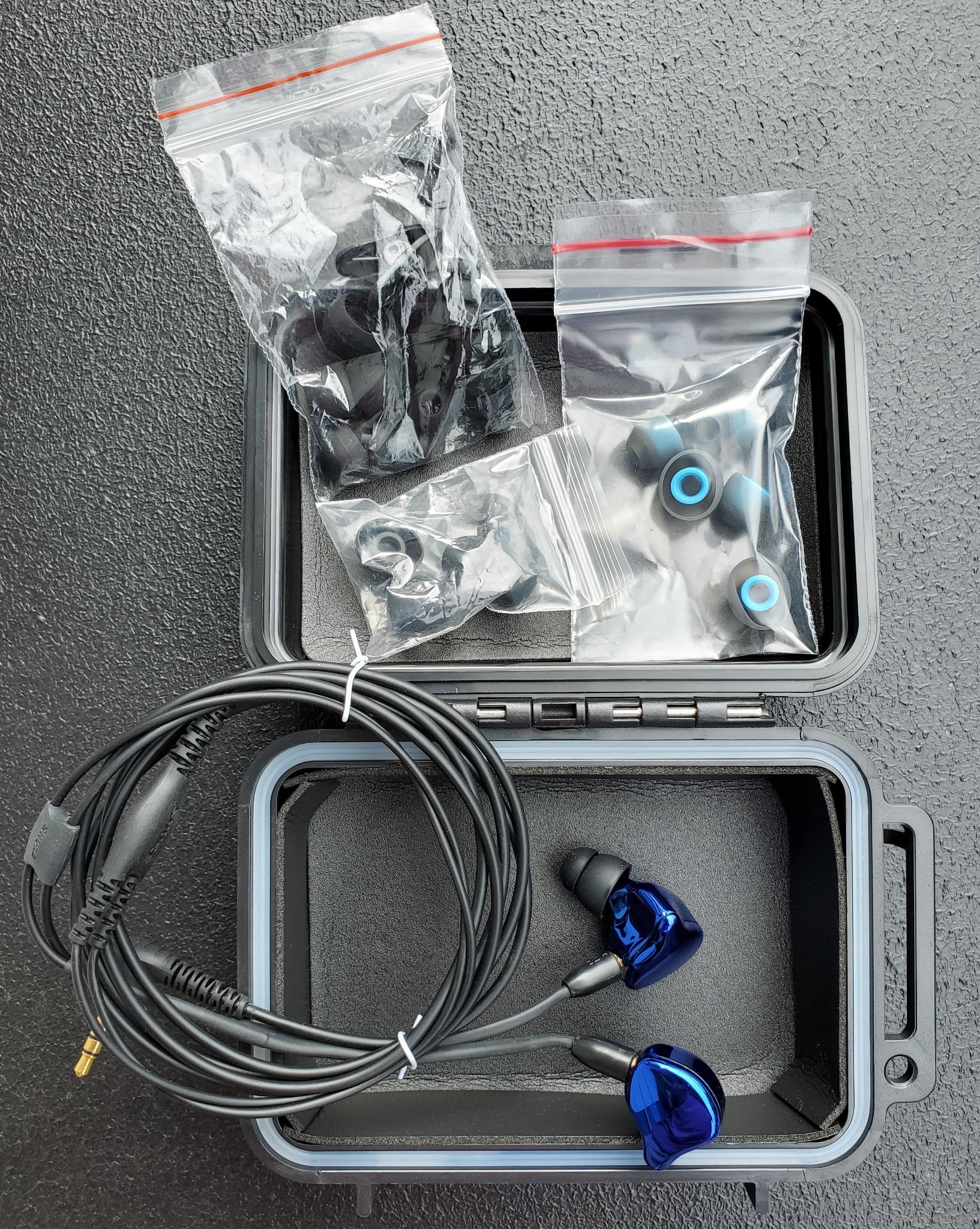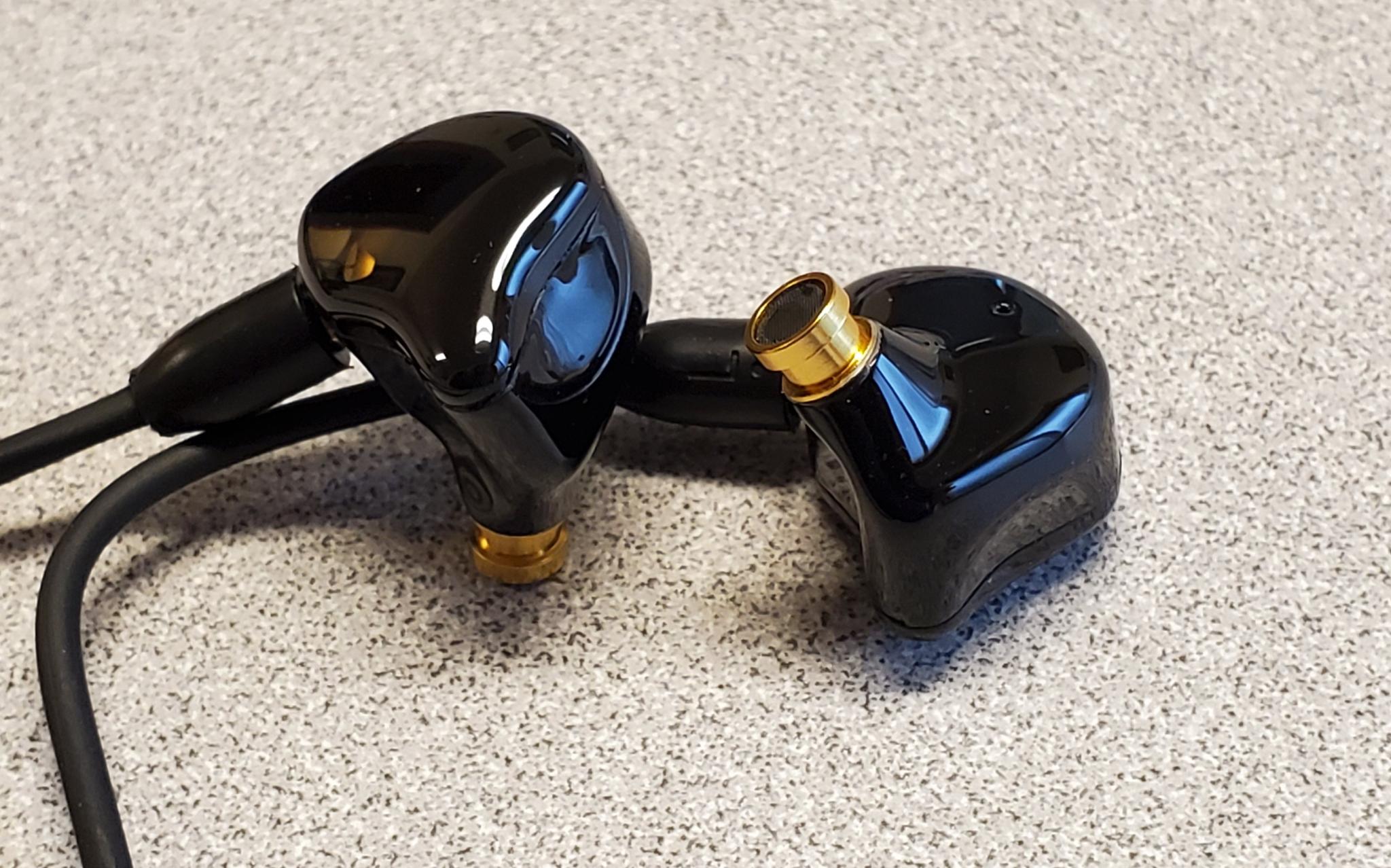 FCS11 Specifications
FCS11B Driver: Proprietary 11mm
Impedance: 32 Ω±20% at 1KHz 1mW (0.179V)
Sensitivity: 111dB±3dB/1Mw/IEC-711
Rated Power: 3mW
Maximum power: 5mW
TH Distortion <= 5% @1kHz, 0.01m, 1mW
Freq Response: 20Hz ~ 20KHz
Impedance: 32 Ohm

Short Story
The FCS11 dynamic driver is a moving coil speaker that moves air. You'll get bone induction and will feel the sound – not just hear it. The result is a larger more visceral high-definition audio signature at less volume. With two, three-way armature drivers, you'll find yourself turning up throughout your performance as your ears fatigue. Not the case with the FCS 11mm dynamic. Another benefit over the multi-driver armatures is there are no electronic or comb filtering artifacts, no phase issues, and no crossover dropouts. The result is a consistent, huge musical soundstage from 20Hz to 20kHz.
The FCS11 sounds as good or better than earphones costing hundreds more. It's the best bang for the buck on the market today. It comes with a 14-day money back guarantee. If you don't feel it's the best money you've ever spent towards improving your performance, you pay shipping back for a full refund. The product comes with a rock solid one-year warranty.
I haven't spent the additional money on a retail package because the sale is direct to the performer. The earphones, cable, tips and cases come from different sources (best I could find to make the package). You'll receive earphones, earphone case and a good number of tips to make sure you can get the correct seal/seating.
Longer Story
Couple thousand of you guys/gals have used our FCS210 and the FCS110. I began exploring options to see if I could build a better mousetrap.
I found an earphone manufacturer that had the patience to put up with all my tweaks. The finished version was the 19th sample and it was correct. I wanted to use a larger dynamic like in my days as National Sales Manager for Aurisonics. Other earphone guys use a 9.2mm (Fender) or a 10mm (Future Sonics). I think Shure's SE215 is 8mm or less. I wanted my Marshall to go to 11mm!
The driver generates a massive production inside your head. The low end is thunderous, tight, punchy, concussive and huge. The higher registers are warm and smooth (not brittle and glassy like an armature IEM). The FCS11 also has a slight introduction of ambient sound.
The FCS11 is designed for the stage (can get louder). The Westone's and Shure products are (I'm guessing) around 40% audiophiles and MP3 listeners. I maintain that a loud ass stage has some different needs than a subway seat or a workout at the gym.
When version 19 arrived, I put on the wave file I use to check earphone range. I actually started laughing. Here's an analogy on the 11mm. You all have a couple venues in town that bring in Warrant, Brett Michaels, Skid Row etc. Then you have venues that bring in Elton John, Eric Clapton, Cher etc. It's that kind of step-up. The 11mm sounds huge.
What were all the "tweaks?" Initially I had a 10mm which sounded good, but we already had good with the FCS210 & 110. I needed more if we were going to add another product to our mix. I had them find an 11mm. Went through 4 different drivers before landing on the biggest sound. The following tweaks were the EQ-ing of the IEM. This is accomplished with porting size and a scrim that can filter out specific freqs. That's what really took the time. There were a lot of near perfect samples but #19 was outstanding.
All the Freq City IEMs in the past had several color options. The best sellers were the blue and the black. I limited to those two colors on the FCS11. Should we call them Cobalt and Onyx to be a tad more cool? I extended the stem gust a bit for better seating of the tips and added a flange at the stem to better hold the tips.
The seating or seal of the earphones with a dynamic driver(s) is critical. Here's a song that's perfect for finding the correct set of tips to give you the best performance from your FCS IEMs.
Put the earphones in and listen to the song. Now push the earphones in farther and move them around until………. the sound gets massive – like perfect. That's the tip set you're looking for. The tips that give you as close as you can get to that huge-massive sound without having to push them around.
I sent a set of the FCS11B to Marty Garcia Owner of Future Sonics. Marty invented in ear monitors back in the Grateful Dead days and is usually out with Stevie Nicks, Jackson Brown, Steve Miller, or James Taylor. After giving my product a listen and discussing the adjustments I'd made in tuning the 11B, Marty said, "You've got a good ear." Marty is a legend within the IEM community and got me hooked on dynamic drivers 20 years ago. Coming from Marty, this was a massive compliment.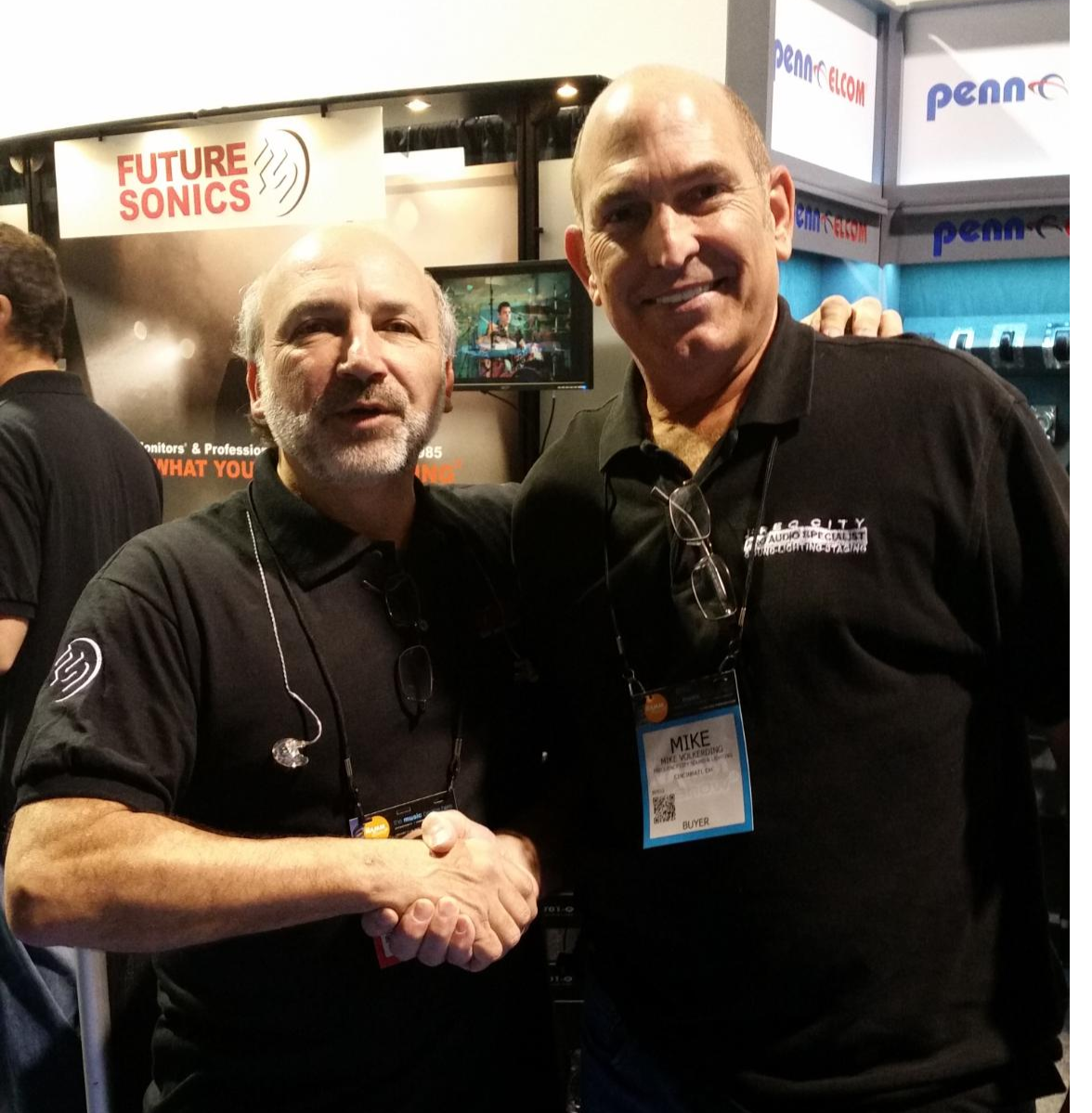 CLIENT EMAILS ON THE FCS11 AND THE FCS11B BASS VERSION
Hello Mike How are you?
I am writing to you because I need four more FCS11B IEMs. I let the other band members try them and they were really impressed with the quality and definition of the sound. The bass player has chosen you as his "personal hero" , cos this is the first time he hear his bass right, with no lack of low freqs! the same goes for the keyboard player, who asked me to order 2. Our singer was unable to use IEMs before, causing hearing fatigue and tinnitus due to excessive high frequencies (Shure). With the FCS she does up to three hours of rehearsals, without any problem.
I look forward to your reply. Best, Max (Italy)
Man alive. There's a percussion shaker or something on the left channel of my sample track. I feel like I can hear each grain in that thing. The cymbal splash is present and delicate. The bass is full and rich. I FEEL it but it's not boomy and doesn't overwhelm the mid-range at all. And the mid-range feels roomy, full, and spacious. Tons of power with crystal-clear detail, that's what I'd say about these. Really, really, nice. Dan Ray
Mike, I received my new FCS11 earphones this week and I was amazed by the big sound. I own SE535, SE425 and FCS210 earphones and the FCS11 blows them all away. These are clean and clear. They fit comfortably and have a good seal with the nice assortment of tips that you included. They are affordable enough for the entry level performer but have the quality needed for a pro player. I'll be telling all my fellow musicians about them. Ron Combs
I haven't played out yet since I got them, but the bass response is huge and detailed for monitoring in Ableton and Logic Pro. Not ashamed to say that I've done quick mix downs with these, since they are always at hand. As I write this, I have them plugged into my MacBook Pro and I'm jamming out to some high-fidelity recordings. Did I say HUGE? Thanks Mike, quick response, and a great value proposition. Eric Inglert, Aspiring singer-songwriter, and technology geek
Mike,
I just received the In FCS11B. Tried them out and am blown away! These are amazing! Thank You! Jim
I got the bass in black and they are wonderful! Used them in praise band at church last weekend and the first time I put them on, I thought I had my bass amp turned up too loud. No, it was the enhanced bass from the FCS11's but I could hear voices and other instruments clearly as well. Amazing sound for the cost. I would put them up against my Shures which cost probably three times as much and these give me more bass response. I like them so much that I am ordering a pair of regular in the black as a backup for my wife who does vocals. James Crider
Hi Mike,
Circling back around to you on the FCS11. I really like them, and prefer them over the 210's. They shine on stage! They are a much better and fuller sound! I am so glad I made the purchase. I ended up giving my wife my 210's, being she is singing now, and quite appreciates them.
Thank you so much for your commitment to excellence, developing better products, and offering at affordable price points!
Have a great week! Mike Wiley
"As a professional musician, (Percussion, Keys, Drums, Studio) I've found the FCS11B IEM's to be a very powerful tool for live and studio applications. Snug fit for good isolation, long cord for tangle free movement and a great sonic balance. Well-built and nicely packaged. They are a great value!" ~ Frank McGucken (Madrigal Percussionist)
"I love the sound of my FCS11 IEM's! They have great low-end response, and they fit my ears perfectly. I use them both on and off stage." - Josh Weinstein (Kat Wright, Burlington VT)
I play Bass in a band called Cheat 'n on Tucker and we recently made the switch to IEMs. However, none of the brands that I tried at first gave me that low end sound that I needed to perform my best. After going through 4 or 5 different brands, I finally found the FCS 11 by Freq City Sound. Game. Changer. They are the bomb! The FCS 11's have the perfect sound necessary for Drummers and Bass players to stay tight when they need it most. If you're looking for the low-end answer to the IEM question, these bad boys are it. 10/10.
Craig Glazebrook / Bass player with Cheat 'n on Tucker
I'm using the 11B's and love them! Great fit with the wide selection of tips included.
Richer, more clear bass than my Shure SE's in custom molds, and I'm finding I can now run at a more comfortable volume level and have zero ear fatigue after use. "Exactly as described in description" is cliché but spot on for the FCS11B's!
Mark / Bass - Middle Age Man Band Cincinnati, OH
"Several years ago, I bought the FCS210's and have loved them. Received the FCS11's for Christmas and put the 210's away as spares. The additional driver size work great for me and easily rival name brands priced 2-3 times more." Dr. Nick Swink, church & freelance bassist Tipp City Ohio
Hi Mike, I'm a bass guitarist and IEMs were completely new to me. The band I was preparing to play with uses them and the band leader uses your product. I appreciated the thorough descriptions on your web page, the prompt shipment, and communication. I used them for the first time at a rehearsal a few days ago and they are just perfect. I was definitely looking for IEMs that would handle low frequencies well and these exceeded my expectations. Thank you. Brian Bielick